Soft Goat (Simplified Chinese: 软绵绵) is the ancestor of the goat family. He was the very first village chief of the goats. It is said that he is still alive. he taught Slow Goat, forming a close bond between them. He is the person that came up with the idea to put the gate in front of the goat village. qoute: herrooka a doddle ca do. he he herroka ooh. h h herok.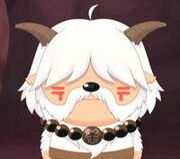 🐞🐞🐞🐞🐞🐞🐞🐞🐞🐞🐞🐞🐞🐞🐞🐞🐞🐞🐞🐞🐞🐞! 🐌🐞🐞🐞🐞🐞🐞🐞🐞🐞🐞🐞🐞🐞🐞🐞🐞🐞🐞🐞🐞🐞
Appearance
Edit
Soft goat has long hair concealing his eyes. There are two red markings located on his cheeks, and wears a necklace with a ring of brown beads.
he was in the movie pleasant goat the super adventure.
he and slow or old goat. he can beat pleasant goat in one second. so he is the worlds fast goat in goat island.
Ad blocker interference detected!
Wikia is a free-to-use site that makes money from advertising. We have a modified experience for viewers using ad blockers

Wikia is not accessible if you've made further modifications. Remove the custom ad blocker rule(s) and the page will load as expected.